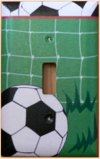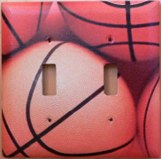 Soccer1 Soccer1 Basketball1 Basketball1

NASCAR
Most cover plates are available in your choice of configurations, including single or double switches or outlets. See "configuration" above for more information.
All our covers are slightly wider and taller than the regular covers you now have to help cover any slight blemishes on your wall and leave a fresh look. Each cover is hand crafted. The image is transferred to a high quality paper film, permanently sealed to the plate, and covered with multiple layers of protectant. Matching screws are included.
Please browse through our selection of topics to the left. And be sure to contact us about custom covers using your artwork, photos or corporate logo.